Summer Offer 2017!!
July 6 2017
OnSite Support is proud to announce that the Summer Offer 2017 Promotion is now available. This offer is valid until September 30, 2017. The products are available for our London Same-day Site Support delivery.
To view our pdf flyer of the Summer Offer 2017 click here:
Summer Offer 2017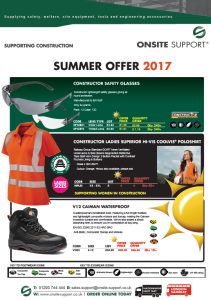 A few key products to look for or order online are:
Constructor Safety Glasses – click here
Constructor lightweight safety glasses giving all round protection.
Constructor Ladies Superior Hi-Vis Coolvis Poloshirt – click here

V12 Caiman Waterproof Boot – click here
Lightweight yet durable, the Caiman combines a nubuck-feel finish and woven fibre upper.With composite toe cap and mid-sole, the Caiman is incredibly light weight and comfortable.It is fully waterproof with a bellows tongue and waterproof lining which allows breathability and reduces perspiration.
Constructor Hi-Vis Coolvis Plus Poloshirt – click here
Hi-vis plus polo shirt, Improved breathability allows garment to stretch. Protect from sunburn.
Deb Sun Protection – click here
SPF30 sunscreen to protect the skin against the sun's harmful UV-A (ageing) & UV-B (burning) rays. Perfume-free and non-greasy
Constructor Pedestrian Barrier – click here
Constructor one-piece stacking, heavy duty Chapter 8 barrier with swivel feet