Privacy Policy
Privacy Policy 2018
Here at Onsite Support, we take your privacy seriously. We only use your personal information to administer your account and to provide the products and services you have requested from us. If you are a client, or have specifically requested it, we will occasionally keep you updated on the latest products, services and news from OnSite Support.
Personal data we collect
When you register for an account or order a product from us, we collect business information from you in order to process your order and deliver your goods. This includes:
Name
Job title
Job function
Company name
Email address
Phone number
Company address
You may also need to give us details of any alternate delivery or invoice addresses which differ from your usual company address.
We also collect information when you voluntarily complete customer surveys, provide feedback and participate in competitions. Website usage information is collected using cookies.
How we will use your information
We use your details to accurately administer your order and deliver your goods. On occasion we will also keep you up to date on the latest products, services and news from OnSite Support:
If your company has registered with us in the last 24 months we believe you have an interest in OnSite Support and would be interested in other related products, services and news from us. In line with the data protection laws you can manage your preferences via the following link.
If you are new to Onsite Support, you will be able to opt into communication from OnSite Support and manage your p references when you register with us.
We do not sell or supply data to other companies for their marketing purposes.
In processing your order, we may send your details to, and also use information from credit reference agencies and fraud prevention agencies. We might also share your data for conducting marketing activity on behalf of OnSite Support such as email marketing. This data will be used confidentially and destroyed after use as part of our terms and conditions with each supplier.
On occasion your data might also be used for the following internal purposes:
Marketing: Sending you information on the latest products, news and services relevant to your company. These can be managed or opted out via your marketing preferences centre
Customer research: to ensure we are sending you accurate information related to you and your company
Develop new services: based on your purchasing history
Offer personalised services: send you reports on purchasing trends in your company and to ensure we send products directly relevant to your company
Reasons we would share your data
The information you provide to us will be held on our computers in the UK and may be accessed by or given to our staff working outside the UK and third parties some of whom may be located outside the European Economic Area who act for us for the purposes set out in this policy or for other purposes approved by you. Those parties process information, fulfil and deliver orders, process credit card payments and provide support services on our behalf. Read on to hear other ways we might share your data.
Countries outside the European Economic Area do not always have strong data protection laws.
We will only allow your information to be used by third parties when this is necessary for the performance of the contract between us. Unless required to do so by law, we will not otherwise share, sell or distribute any of the information you provide to us without your consent.
Finally, if our business enters into a joint venture with or is sold to or merged with another business entity, your information may be disclosed to our new business partners or owners.
Privacy-by-design
We respect your privacy and your data. Only employees of OnSite Support can access client data. Each employee signs a confidentiality agreement when recruited by OnSite Support and only has access to the customer data required to fulfil their roles. Client information is stored on a database which is password protected.
Any printed materials with confidential information are shredded and any financial information is sent to a third part to be officially shredded and incinerated.
OnSite Support limits the details sent to suppliers on a need to know basis (e.g. just email addresses.) Client details are only shared at the benefit of their business and with consent or under legitimate interest.
Both our database and website use hashing to password protect access.
How to access/control your data
You have the right to request a copy of the information that we hold about you. If you would like a copy of some or all of your personal information, please email or write to us at the following address. We may make a small charge for this service. We want to make sure that your personal information is accurate and up to date. You may ask us to correct or remove information you think is inaccurate.
Cookies
When you use the www.onsite-support.co.uk site, your browser may alert you to the fact that a cookie is being sent to your PC. Without a session, web sites have no "memory" and you would not be able to remain logged in when you moved between pages, as each click would treat you as a completely new visitor. Nor would you be able to have a shopping basket as there would be no mechanism to connect you to a previous website action.
If you do not wish to accept cookies on to your machine you can disable them by adjusting the settings on your browser. However this will affect the functionality of the websites you visit. Read on for more details on cookies.
www.onsite-support.co.uk uses a type of cookie known as a "Session Cookie" which is stored in your computer's memory and deleted when your web browser is closed. Individuals, advertisers or any other companies do not have access to cookies set by www.onsite-support.co.uk. This session cookie does not collect information from your computer and does not hold any personal information. It merely acts as a reference to your website session.
Session cookies used by www.onsite-support.co.uk are not harmful to your computer in any way, however if you choose not to accept cookies, then we use an alternative method to remember your session. You may notice a longer URL in your web browser's address bar that may contain session variables.
In addition to the session cookies noted above, www.onsite-support.co.uk also uses some persistent and semi-persistent cookies in order to operate Google Analytics and Google Maps. Google Analytics is used because it helps us accurately understand how visitors use the web site, such as the number of visitors, how visitors arrive at our site and the most popular pages viewed. This is to ensure that we optimise the service in terms of content, speed and availability to allow us to ensure that the web site is available when you want it; with the content you want at a speed that allows you to use it effectively. To do this Google Analytics uses cookies. Essential cookies are used to log into the client area of the site to allow the user to place orders and view their account information. We do not use cookies to collect personal information about users. You can block and restrict cookies using your browser settings if you wish, but this may affect the functionality and have an effect on your experience using the website.
If you do not wish to accept cookies on to your machine you can disable them by adjusting the settings on your browser. However this will affect the functionality of the websites you visit.
For more help on how to disable your cookies or delete them visit www.aboutcookies.org
Security and data retention
We employ security measures to protect your information from access by unauthorised persons and against unlawful processing, accidental loss, destruction and damage. We will retain your information for a reasonable period or as long as the law requires.
Other websites
Our website contains links to other websites. This privacy policy only applies to this website so when you link to other websites you should read their own privacy policies.
Changes to our privacy policy
We keep our privacy policy under regular review and we will place any updates on this web page. This privacy policy was last updated in March 2018.
How to contact us
If you would like to receive information on how we are storing your data, please contact [email protected]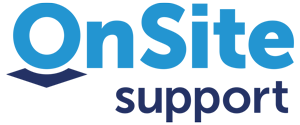 is a registered trade mark of OnSite Support Limited