Keeping employees cool and safe in hot weather
This summer, many people in UK construction will have to work in hot conditions, potentially putting their health and safety at risk.
PPE is an important element of any hot weather working strategy, says OnSite Support's Damian Lynes.
While many people in the UK will welcome the chance to get out in the sun this summer, spare a thought for construction workers, many of whom will have to work outside in full PPE, regardless of the weather.
Heat stress is a very real problem. It can lead to heat exhaustion and, in the most severe cases, heat stroke, which can mean construction workers are unable to concentrate fully and can experience muscle cramps and fainting. Clearly, this can have an impact on people's wellbeing and safety on site.
Those working outside are also more at risk from skin cancer. Cancer Research UK reports that there are about 15,400 new cases of, and 2,400 deaths from, melanoma skin cancer each year. Additionally, the Institution of Occupational Safety and Health says there are almost 3,000 cases of non-melanoma skin cancer caused by exposure to UV radiation from the sun at work and around 250 case of malignant melanoma.
Have a hot weather working strategy
With summer around the corner, it is therefore essential that employers ensure they have hot weather working strategies in place. These will include providing site workers with plenty of drinking water to prevent dehydration and building in regular breaks, where they can rest out of the sun and remove PPE in safety.
Choose suitable, comfortable PPE
Along with safety, comfort of PPE is paramount – if it is not comfortable, then people may not wear it. This means clothing has to be lightweight and breathable and must offer sufficient protection from the sun, with an Ultraviolet Protection Factor of 50 or more.
It is also worth considering choosing safety footwear with breathable linings, so workers' feet are cool and comfortable in the summer months. This does not mean investing in two sets of boots or shoes either – they keep feet warm when the temperature drops.
Hard hats can be a particular source of discomfort in hot weather; wearing one makes losing heat more of a challenge. In the hottest conditions, it is worth considering issuing helmet cooler systems to reduce heat. The Kalis system from manufacturer Centurion, for example, can cool the head to 15°C below ambient temperature, making it much easier for the wearer to regulate their body heat.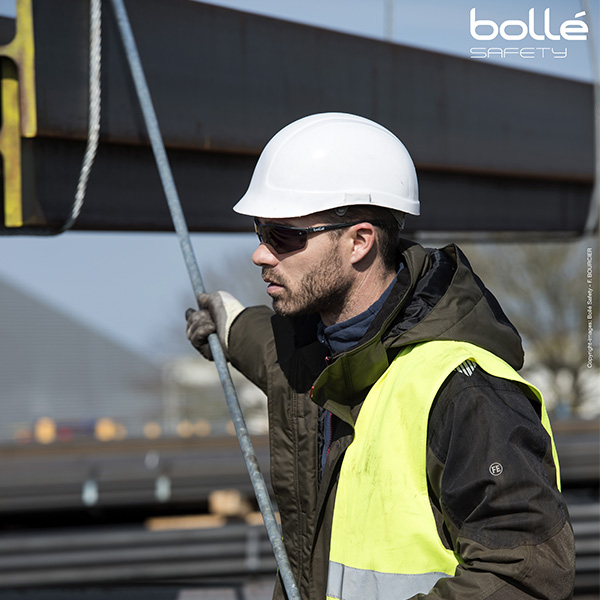 Protect eyes from damaging UV
The level of UV protection offered by protective eyewear is an important consideration during the summer months. Lenses meeting EN170 Ultraviolet filters give UVA and UVB protection and should also conform to EN172 Specification for sun glare filters for industrial use, meaning they offer protection up to UV780NM.
Additionally, protective eyewear sold in the EU and the UK must meet EN166:2001 Personal eye protection – specifications, which lays out the minimum resistance of frames and lenses against a number of risks, from dropping onto a hard surface, to impact from flying projectiles and ageing through exposure to heat, light and corrosive materials.
Educate workers on the dangers
Alongside PPE, it is important that hot weather working strategies include education of workers on the dangers of heat stress and too much sun: from staying hydrated; applying sunscreen before a shift and every two hours thereafter, to keeping tops on – particularly if they are wearing hi-vis clothing.
The summer months also bring more insects and with them, increased risks of bites and stings; it is a good idea to have a record of anyone who suffers from allergic reactions and to make the team aware of how to deal with an adverse reaction, such as using epi-pens, should anything happen.
In fact, the success of a hot weather working strategy is built on everyone on site looking out for one another, as well as themselves. This should keep everyone safe, coherent and happy, which will have a positive impact on any company's productivity.
We offer a range of PPE appropriate for hot weather, from breathable hi-vis clothing and footwear, to UV400-rated protective eyewear and hard hat cooling systems.
Our team will also be happy to help customers develop hot weather working strategies, providing independent advice on the best approaches and equipment. For more information or to book one of these services, please call us on 01293 744 444 or email hello@onsite-support.co.uk