Services
Special Services Deliveries
Supporting site and workshop teams with urgent and important deliveries is one of the most valuable features to the clients of OnSite Support. We understand that a project cannot afford to wait for supplies, and our Special Service team regularly perform the impossible to keep you on track. Please ask for more details on:
Same-day Deliveries
Deliveries
International Deliveries
Delivery Tracking
Special Product Sourcing
Every job is different and brings new challenges. We understand that sometimes, supplies and equipment have to be modified to suit the parameters of a specific requirement. Talk to a Section Team Leader or one of the Sales Support team to tap our expertise – OnSite Support is fulfilling over 45,000 orders per annum.
Corporate Uniform and Workwear Logo Service
A key part of our business, today's corporate clothing needs to do more than just carry a name, it needs to reflect an image. In this ultra-competitive world, you don't just need to be professional, you need to look it as well.
In case you didn't know OnSite Support offer garment making and personalising service.
Suitable for anyone and everyone, from a team of one to thousands, we're experts in the many methods of garment marking, including:
1. Embroidery – the method of choice for premium branding
2. Heat Seal Transfers – Durable, sharp and clear with rapid turnaround
3. Screen Printing – Excellent value, ideal for larger quantities
PERSONALISING
Take an existing design and tweak it with your own combination of colours, sleeves, pockets, collars etc to really reflect your image. With low minimum quantities and relatively short lead times, this scheme is ideal for minimum hassle with maximum impact. Let us guide you through the options.
FULLY BESPOKE SERVICE
We can work with you to create a unique corporate image entirely from scratch. Our team will listen to your requirements, visit the working environments and get an understanding of your brand values in order to get the look and feel just right; drawing on our experience in fabrics and garment function to develop fit-for-purpose ideas and turn them into practical, visually effective and relevant garments that exceed expectations.
Whatever your requirements, large or small, call us to find out how we can maximise your company's impact through its uniform!
STOCK TRANSFERS
Standard wording kept in stock for immediate use.
Other standard font wording available to order for fast turnaround – please ask sales staff for details.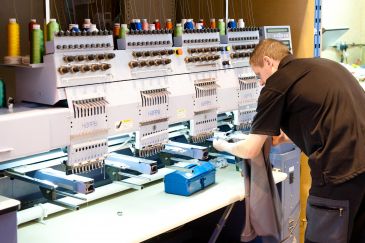 Customer Care
Our goal is to have exemplary, outstanding, and shining customer care that leaves all our clients feeling warm and appreciated. This provides a client experience that is far superior to our competitors; an expericence that meets and exceeds our customers' expectations.
Please contact the office regarding warranty repairs on power tool products purchased within 12 month period.
Demonstration
With an innovative product range, clients often need to see and trial before the purchase. This is no problem for the clients of OnSite Support, as the priority is to work with you to identify the best and most cost-effective solution to your needs. We will bring to you a range of the right products, and run the necessary trials and reports to find the best solutions and accessories to maximise success.
Training
We will not only supply the right solution, but also coach and empower the operatives to use the solution to maximum success. We invest significantly in product and development training of the OnSite Support team, and want to pass this expertise on to you as our client and for the benefit of the industry, as part of our Mission: to improve the quality of life for those we serve.