Services
We really do care about people and delivering exceptional client service is at the heart of what we do. The services we offer are designed to directly benefit the clients we work with, and we are always looking at ways we can improve this.
We commit to responding to all requests within 1 hour, and although we can't always provide instant solutions, we can certainly find an answer to help you. We open from 7am – 5pm on week days, so just call us if you have any questions.
Here are some of the services we offer:
Fast Delivery
Next day delivery if ordered before 5pm
Same-day delivery within the M25 if ordered before 10am
Collection service between 7am and 5pm for orders placed by email, phone and online.
Corporate Uniform Personalisation and Branding Services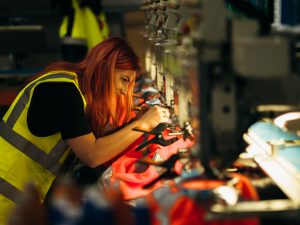 We understand that today's corporate clothing needs to do more than just carry a name, it needs to reflect an image.
We can take an existing design and tweak it with your own combination of colours, sleeves, pockets etc.
Embroidery – the method of choice for premium branding collars etc to really reflect your image. With low minimum quantities and relatively short lead times, this scheme is ideal for minimum hassle with maximum impact. From one garment to thousands, we're experts in the many methods of garment marking, including:
Heat Seal Transfers – Durable, sharp and clear with rapid turnaround
Screen Printing – Excellent value, ideal for larger quantities
Fully Bespoke Workwear Branding Service
We can work with you to create a unique corporate image entirely from scratch. We will listen to your requirements, visit the working environments and gain an understanding of your brand values in order to get the look and feel just right.

Product Demonstration
With an innovative product range, clients often need to see and trial before the purchase. This is no problem for the clients of OnSite Support, as our priority is to work with you to identify the best and most cost-effective solution to your needs. We will bring to you a range of the right products, and run the necessary trials and reports to find the best solutions and accessories to maximise success.
Training
We will not only supply the right solution, but also help your team to use the solution properly. We invest significantly in product and development training of the OnSite Support team, and want to pass this expertise on to you.
Special Product Sourcing
We understand that sometimes, supplies and equipment must be modified to suit your requirements. Speak to us for more information.