Sustainability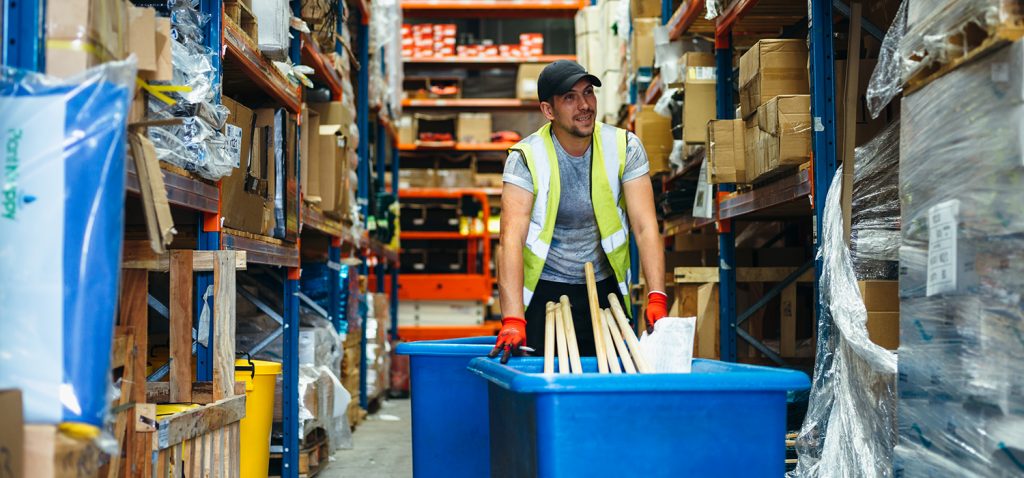 We believe we can all work together to provide a more sustainable future for generations to come, so that everyone benefits – but we can't do it alone. That's why our goal is to work in collaboration with our clients, as partners. Not only to meet their needs in the present, but to do so without compromising the ability of future generations to meet their own needs.
Sustainability is more than just reducing your carbon footprint. It's about managing and coordinating environmental, social and financial demands to ensure responsible, ethical and continued success.
One of the key areas we are passionate about and want to support is the 'Circular Economy', using our contacts to provide a real and tangible solution for our clients through every point. As part of our drive to improve this area, we offer a PPE (& packaging) recycling service which solves the problems often seen at sites when PPE products reach the end of their usable lives or the project is finished and has items they need to remove from the site responsibly. This has proved a key area of interest for our biggest clients and we are now rolling this scheme out to as many of our clients as possible. Not only do we help clients get rid of unwanted waste in a sustainable fashion, we also provide clients with full end-of-life waste stream reporting through our PLUS commercial programme. This shows in detail how the recycling has been disposed of in a sustainable manner and which of the five waste streams were used (including associated weights channelled down each stream). Please get in touch to find out more.
Our efforts to grow sustainably are focused in three key areas: the environment, business ethics, and community & social responsibility.
Environmental Impact
Carbon emissions reduction: As part of our fuel emissions strategy and FORS accreditation, we're working with clients to consolidate deliveries where possible, and we're currently trialing use of electric vehicles with a view to rolling these out across our logistics fleet.
Waste reduction: As part of our ISO 14001 accreditation, we have implemented numerous paperless systems including e-PODs and digital invoices that can be downloaded from the bespoke client portal on our website.
Energy-efficiency strategies: We've installed LED lighting throughout our premises including the offices and warehouse. This type of lighting uses 90% less energy than standard halogen lighting, further reducing our carbon footprint.
Green supply chain management: We're actively seeking and finding ways to deliver our range from materials which are both sustainably produced and can be recycled. We're also working to reduce the plastic content of our packaging and launching initiatives to encourage suppliers to omit non-recyclable plastics from the ranges we supply. Key examples include FSC certification for timber products, reduced use of polypropylene in clothing, and increased use of much longer-lasting EVA material in our footwear. We also have numerous products with the EU Ecolabel, meaning the full lifecycle of these products from raw material to how it's disposed of can be traced.
Environmental effect
Just as important to us as the work we do to manage our own impact are the partnerships we seek to form with all our clients to help them manage the environmental impact of their projects. We can offer a range of support in this area, including advice on:
Sustainable product and service solutions, minimising waste and reducing carbon footprint
Minimising the impact of vibration, air, light and noise pollution
Protecting landscape, wildlife, vegetation and water courses through more effective spill management
Business Ethics
We believe that strong business guide sustainable growth. We are committed to trading and working with our clients, employees, contractors, suppliers and any other individuals and organisations, in accordance with the best moral practices. We believe in treating people fairly, and place a high value on the relationships we have with our clients and supply chain partners.
Our employees are expected to exercise the highest level of integrity, ethics and objectivity in their actions and professional relationships, and to act in the long-term best interests of OnSite Support at all times.
Community & Social Responsibility
We believe in playing our part to support the people we live and work amongst, so that both business and community can thrive.
We volunteer with and donate on a monthly basis to the Rapid Relief Team: supporting local communities in times of need and providing catering for the emergency services when responding to major incidents.
Annually we hold fundraising events for a variety of charities such as British Heart Foundation, Macmillan, Breast Cancer Now, Shelter and Save The Children.
We also support fundraising events that our clients, employees and suppliers are raising money for, such as sponsored bike rides and marathons.
As well as making a positive impact on our communities, we believe these activities also help bring our staff together in a different context, building and strengthening the team that serves our clients, so everyone benefits. For us, that's a perfect example of what sustainable business is all about.