SaveSorb Range
SaveSorb is the most effective absorbent on the market. Quick and easy to use, it substantially reduces the amount and cost of hazardous waste disposal for companies, while protecting the environment.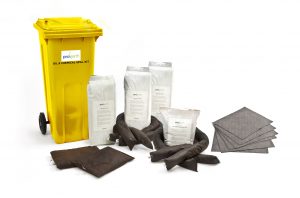 SaveSorb – its qualities
A totally natural and sustainable plant resource

True absorbent of almost all hydrocarbons, chemicals and their vapours

Hydrophobic (repels water)

Use up to 20 times less loose SaveSorb to clear up spills, compared to other products like clay ganules.


Safe to handle in its natural state

Versatile – for use on land or in water
Click here to view SaveSorb Frequently Asked Questions
SaveSorb – benefits
Substantially reduces the amount of hazardous waste disposal

Decreases incidents of pollution caused by contaminants leaching back into the environment
Save Time. Save Money. Save the Environment.
Click here to see all SaveSorb Products
Click here to learn more about this sustainable product
Watch more videos of SaveSorb in Action!